Two serious art shows coming up at
Contemporary Arts Center
for 2010...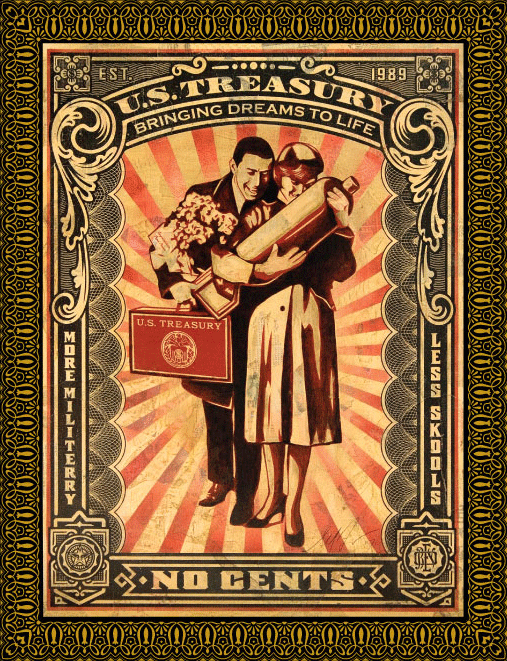 Shepard Fairey:
Supply and Demand
Guest curated by Pedro H. Alonzo and developed by ICA/Boston
February 20–August, 2010
Levels 4 & 5
The first one-person museum survey of Fairey's work, Supply and Demand coincides with the 20th anniversary of the artist's controversial career. Fairey was born in 1970 in Charleston, South Carolina, but lives and works in Los Angeles. He graduated from Rhode Island School of Design in 1992 with a Bachelor of Fine Arts in Illustration. The show 80 works created from 1989 to the present, and traces the development of his career from the earliest Obey imagery to his current efforts. Featuring the multi-layered renderings of counter-cultural revolutionaries and rap, punk and rock stars which carry his iconic use of black, white, and red, the show includes screen prints, stencils, stickers, rubylith illustrations, collages, and works on wood, metal, and canvas. First shown at the CAC in Beautiful Losers in 2004, Fairey has developed into one of the most influential street artists of our time. Despite breaking many of the spoken and unspoken rules of contemporary art and culture, his work is now seen in museums and galleries, as well as the worlds of graphic design and signature apparel.
Building off of precedents set by artists such as Andy Warhol and Keith Haring, Fairey easily shifts between the realms of fine, commercial, and even political art. Recently, his portrait of Barack Obama drew a new level of attention to the artist's work, and has been acquired by the National Portrait Gallery.
Ernesto Neto
May-November, 2010
Level 2 (Upper)
Ernesto Neto, although not very widely known in the United States, is considered one of the most influential artists of this generation. The CAC exhibition is an environment created by the artist specifically for the CAC - engaging all of the senses. Neto creates all-encompassing installations of stretchy, stocking-like material and loose, translucent scrims extending from ceiling to floor and often filled with aromatic spices or malleable Styrofoam pellets. The soft, stretched stockings are redolent of the exterior organic world, yet they are also evocative of our skin, our interior body systems, and our senses. The spices and powders emit aromas and leave residue, enhancing the experience through different textures and scents.
Neto brings new life to the very concept of sculpture and architecture by creating immersive environments that invite engagement on many levels, both formal and philosophical.
CINCINNATI CONTEMPORARY ARTS CENTER
Lois & Richard Rosenthal Center for Contemporary Art
44 E. 6th Street, Cincinnati, OH 45202
513-345-8400